OUR PROJECTS
Bridges Catering
Bridges Café and Catering is a social enterprise operating under Opportunities Yukon. We help people in vulnerable sectors to become active contributors to the community by enabling them to learn essential job skills. Our mission is to operate a successful café and catering business that provides employment, training and socialization opportunities for people who have faced challenges entering the job market.
Our involvement
At Bridges Café and Catering, we value an individual's potential within the sector, seeking ways to grow their confidence and self-worth through real work, and setting them off on the path to living fulfilling all-rounded lives. We adopt a holistic approach that recognizes our responsibility towards the independence of people with diverse needs and abilities.
Our business
Bridges Café and Catering has been a fully operational catering business since 2014. We provide catering for different kinds of gatherings, from office meetings and seminars to private occasions and big public events in the Yukon.
We also operate a café in the Cornerstone Community Building, serving breakfast, lunch and teatime favorites. Some of our stand-out menu items include homemade, ready-to-eat frozen meals as well as a variety of sweets and pastries.
The team behind Bridges Café and Catering is led by Chef Joel Dumlao, who has been a part of the enterprise since it was founded. Chef Dumlao brings with him years of experience in the culinary industry and a passion for all things delicious.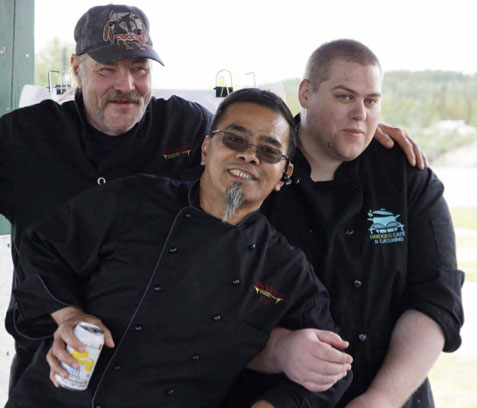 Want to work here?
Bridges Café and Catering is just the place for people looking for a friendly start in the culinary world. Our team is happy to welcome new members, showing you everything you need to know about working in a professional kitchen and making food that looks and tastes great.
"In the abstract art of cooking, ingredients trump appliances, passion supersedes expertise, creativity triumphs over technique, spontaneity inspires invention, and wine makes even the worst culinary disaster taste delicious."
Interested in a career with Opportunities Yukon?
Interested in a career with Opportunities Yukon?